THINKING OF SWITCHING TO ELECTRIC?
You have come to the right place at J.J. Burke Car Sales. With a comprehensive EV Range available there is an Electric Vehicle to suit you. There is so much to love about electric vehicles over the conventional combustion petrol or diesel engines. The benefits of an Electric vehicle are
Relaxed Driving Experience thanks to a silent motor with no engine noise or vibrations that you would get on a petrol or diesel engine
Ever growing network of charge points - thanks to ESB eCars charge point installation in public areas there is multiple options for charging your Electric Vehicle on the road. You can view the full map on the ESB eCars here
Grants - SEAI will contribute a grant of up to €5,000 plus VRT Relief towards a new Electric Vehicle towards a Private Customer, while Businesses can receive a grant of up to €3,800 towards a new Electric Vehicle.
Innovation - with new Electric Vehicles like the All New Renault ZOE you can benefit of clever innovation like the MyRenault App which on certain models allows to "Pre Heat" the climate control so your ZOE's interior cabin is at the perfect temperature on a cold day!
Choice - at J.J. Burke Car Sales you can choose from the innovative Renault Z.E. or Zero Emissions Range with a range of Hybrid and Plug In Hybrid options now available. You can choose from the all new Renault ZOE fully electric, CLIO V Hybrid, CAPTUR Plug In Hybrid, MEGANE Sport Tourer Plug In Hybrid or in the commercial range, the Renault ZOE Commercial, KANGOO Z.E. and Renault MASTER Z.E. New for 2021 is the launch of the Peugeot EV Range including the e208 and soon to be launched e2008 SUV while the 3008 SUV Hybrid4 and 508 Hybrid4 are now also available.
To view the Renault and Peugeot Electric Range please click below
Grants
There is a grant available up to €5,000 from SEAI for an Electric Vehicle plus VRT relief. When purchasing a new Electric Vehicle, the dealer will apply for the grant for you. The grant amount is deducted from the total price agreed for your new Electric Vehicle.
A government funded support scheme has also been introduced to assist homeowners install an electric vehicle charge point on their property. This provide grants of up to €600 towards the purchase and installation of a home charger unit.
For more information on the SEAI grants available, please visit: https://www.seai.ie/grants/electric-vehicle-grants/
Looking for the Best of Both Worlds? Check out our HYBRID/PHEV Range
By combining an electric motor with a conventional petrol/diesel engine you can get the best of both worlds with our HYBRID and Plug In HYBRID or PHEV Range. A Hybrid car charges the battery on the electric motor through regenerative braking or in fuel mode without having to plug the vehicle in whereas a PHEV or Plug In Hybrid Vehicle allows you to charge the battery via an EV Charge Point. Main advantages of a hybrid and PHEV is that they consume less fuel and emit less CO2 than Petrol or Diesel vehicles making a huge difference on the Carbon Footprint
Renault E TECH Hybrid and PHEV Range
Renault is no stranger to the EV Scene with their 100% Electric Z.E. Range including the top selling ZOE and Kangoo Z.E., Master Z.E. Commercial Vehicles.
Renault E TECH Range
The efficient new E-TECH range has been added to 3 popular Renault Models – CLIO V, CAPTUR and Mégane Sport Tourer. Renault's first PHEVs boast a driving range up to 50km in all electric mode and you can switch between petrol and electric mode for a unique driving experience. By choosing a hybrid, you consume up to 40% less fuel compared to conventional petrol engines when driving on a motorway or in the city.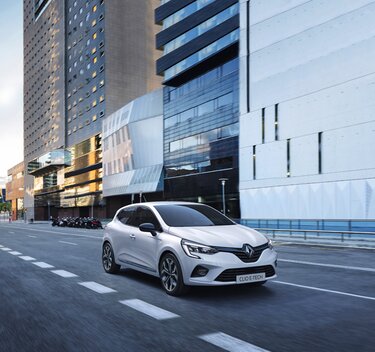 CLIO V E TECH HYBRID
All New CLIO V E TECH is the first hybrid version of the popular supermini and is available with a powerful 1.6 litre 140bhp hybrid powerplant driven via a smooth clutchless automatic transmission. Enjoy the various MULTI- SENSE modes for a personalised driving experience, depending on the version. CLIO boasts all the latest technology including Active Emergency Brake, Lane Keep Assist, an Innovative multimedia system and Google Address Search.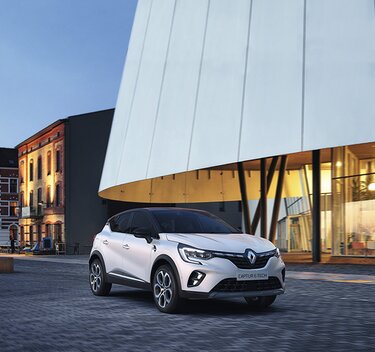 CAPTUR E TECH PHEV
All New CAPTUR E TECH Plug in Hybrid is arriving soon and is Renault's first Plug In Hybrid. Get the best of both worlds with the choice of driving the All New CAPTUR in electric mode throughout the week, with a daily charge, and switch to hybrid for longer weekend trips! A solution for all your journeys!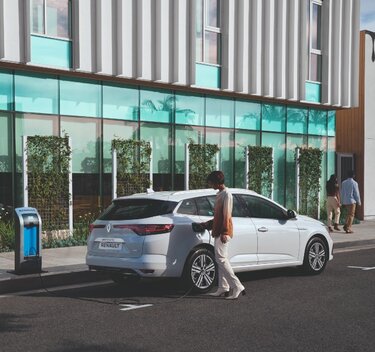 MEGANE SPORT TOURER E TECH PHEV
All New Megane Sport Tourer E Tech Plug In Hybrid combines practicality with the innovative E TECH Plug In Hybrid Technology. Boasting the responsiveness of an electric car, the Megane features a 1.6 160bhp powerplant and starts just as silently and accelerates just as quickly as a fully electric vehicle. Megane Sport Tourer E TECH is the ultimate family car thanks to a record loading length of 2.70metres with the rear and front passenger seat folded down.
Peugeot ELECTRIC & HYBRID VEHICLE PAGE
The revolutionary Peugeot Electric and Hybrid Range is now available at J.J Burke Car Sales. With a vast range available to suit most lifestyles our Peugeot Electric and Hybrid Range is the Next Generation. Choose from our fully electric range including the All New e208 Supermini and All New e2008 SUV – both equipped with a 50kWh 136bhp fully electric motor and a WLTP driving range up to 340km. Looking for the best of both worlds? Introducing the all new Peugeot PHEV range including 3008 SUV, 508 Fastback and 508 SW. The PHEV technology is simple and efficient mobility with a choice of 2 or 4 wheel drive saloon, SW or SUV with 225bhp or 300bhp powerplants all with a WLTP driving range in fully electric mode up to 50km.
e208 100% Electric
The All New e208 electric car has everything you need from its stand out exterior design, revolutionary Peugeot iCockpit interior and now a 100% Electric 50kWh 136bhp motor. New e208 enters a whole new dimension of driving pleasure thanks to immediate engine torque, silent engine and a smooth drive without jolts. This combined with a WLTP driving range up to 340km and SEAI grants available for both car and towards home charge point installation ensures you save money while its 8 Years/160,000km Battery warranty gives extra peace of mind
e2008 SUV 100% Electric
Discover the all new Peugeot e2008 SUV now available at J.J. Burke Car Sales. Boasting a 50kWh 136bhp fully electric motor the new e2008 SUV features a WLTP driving range up to 310km and new sensations of electric driving thanks a silent engine, and immediate engine torque. The e2008 SUV features an expressive front end, raised ground clearance with a high driving position, revolutionary Peugeot iCockpit Interior and a host of safety and technology features as standard.
3008 SUV HYBRID and HYBRID4
The Award Winning 3008 SUV is now available in the revolutionary Plug in Hybrid technology. Available in 2 and 4 Wheel Drive and a choice of 225bhp and 300bhp powerplants, the 3008 SUV features a 1.6 PureTech petrol engine which is combined with electric motors to provide up to 300bhp! In HYBRID4 versions the 4WD system enables improved traction on bumpy roads or terrains adding extra peace of mind and safety depending on driving conditions
508 Fastback HYBRID and 508 SW HYBRID
By combing a sleek exterior whether its Fastback or SW versions, the revolutionary Peugeot iCockpit interior and the all new Plug in Hybrid technology, the 508 Range combine a 180bhp PureTech engine with a 110bhp electric motor to give a combined maximum power of 225bhp!
The new 508 HYBRID and 508 SW Plug In Hybrid boasts a WLTP driving range over 40km in full electric mode and very low CO2 emissions under 49g of CO2 per WLTP kilometre!
To Book a Test Drive in the Peugeot Fully Electric and HYBRID range please call us today to click the link below
For more information or to book a test drive today please call 094 9541359 or simply fill out the contact form below and a representative will come back to you.